true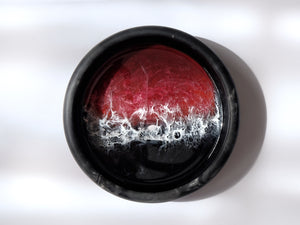 Red & Black Seascape Bowl #1
I present to you Sincerely, Cherise's first ever Halloween-inspired collection. Limited edition and specially made for this spooky season, but usable throughout all seasons of the year.
Lovely little bowl to store your jewelry, paper clips, keys and more! (And crystals too.)

Fully-handmade with my own self-made mold; carefully sanded and polished by hand as well! The seascape itself consists of layers of paint and resin.
Dimensions: 12cm across x 3.4cm tall
Note:
- This item is handmade, so imperfections are to be expected.
- Actual colors may differ slightly due to different resolutions on different devices.
- For a full video of this, check out my 'next launch!' story highlights on Instagram.